Tooth loss can impair your ability to chew and speak, causing you to feel pain, frustration, and embarrassment related to your oral health.
At Dr. Robert Zboril's practice in Victoria, TX, we can provide highly realistic dentures that are customized to fit comfortably.
Why should you replace your missing teeth with dentures?
Dentures Can Complete Your Smile
& Restore Your Confidence
Rejuvenate Your Appearance
Tooth loss can cause your cheeks and lips to appear sunken, making you look older than you are. Customized permanent dentures are designed to fit your bite, provide a natural looking replacement for missing teeth, and maintain support for your facial features. We also offer full mouth reconstruction.
Enjoy a Better Quality of Life
After receiving new dentures, most patients enjoy improved function and aesthetics. This can restore your self-esteem and improve your quality of life by making it easier to eat, speak, and smile with confidence.
Secure Your Prosthetic with Implants
If you desire greater stability and peace of mind, Dr. Zboril can attach your dentures to dental implants. Implant-supported restorations are secured directly to the jawbone, preventing atrophy and keeping your restoration in place at all times.
How Do Traditional Dentures Work?
Embarrassed about the Condition of Your Teeth?
Don't Worry
Premium Restorative Dentistry
Dr. Zboril's Compassionate Approach to Care
At the Zboril Dental Center in Victoria, TX, Dr. Robert Zboril and his team provide outstanding dental care to patients who are missing natural teeth. Our dentist won't judge you for your missing teeth. He will help you find the best solution so you can have a confident smile and a healthy bite. For many patients, the best restorative option is either full or partial dentures.
If you would like to speak with a dentist who puts patients first, contact our practice online. You can also reach our office in Victoria by phone.
"Thank You Dr. Zboril"
5-Star Patient Reviews
Absolutely one of the Best Dentist in the world!!!! Especially if you are afraid of having any dental work!!! Dr.Rob has so much patience!!! And understands when someone is so nervous! Having two implants placed and a couple of fillings as well as crowns! He always knows how to keep me calm and happy during the procedures!!!... Thank you Dr. Zboril for an amazing Dental Experience!!! Your truly the Best!
View On Google
Dr. Zboril and his staff are absolutely wonderful. They are patient and fun! I love the compassion that he gives to his patients. I'm in the dental field and I probably am more critical of other dental offices than others. I encourage anyone looking for a great dentist and staff to go see him. It's the down home office I dream of. Thank you Dr. Zboril for taking great care of me.

View On Google
Jose Shares His Experience
Treating Tooth Loss and a Worn Smile
Unhappy with Your Current Dentures?
We Can Make Repairs, Adjustments, and Replacements
Whether your dentures were originally supplied by us or another dentist, come see us today and we can make sure that they fit comfortably and securely.

Reline Services
If you already wear lower or upper dentures but are unhappy with the way your current prosthetic fits or feels, we have reline options at our practice in Victoria, TX, that allow us to modify existing dentures. This improves overall comfort when biting and chewing while also preventing slippage.
Lost or Broken Dentures
When we fabricate a partial or complete denture at our practice, we store a digital record of its dimensions, as well as a scan of your teeth and gums. Keeping this information on file allows us to recreate the prosthetic if you should ever break or lose your dentures.
Schedule a Consultation Today
If you are ready for a new smile that will take years off of your appearance and enable you to speak and eat with confidence, schedule a consultation with Dr. Zboril at Zboril Dental Center today.
During a consultation, our dentist will examine your teeth and gums to determine what type of restoration is right for you. If you will be best served by a partial or complete denture, Dr. Zboril will take 3-D scans and impressions of your bite in order to precisely craft a natural looking prosthetic for you. Fill out our online form or call us in Victoria at:
"Great Personal Care"
Read More 5-Star Reviews
Great personal care. Upfront and reasonable about cost. Beautiful clean office. Professional, caring and honest. I highly recommend.

View On Google
I highly recommend Dr. Rob. He is thorough, professional and made a difficult procedure go smoothly for me. His assistants were great and this place is state of the art. The entire process is as good as it gets.

View On Google
Fake Teeth Are a Concern
We Offer Natural Looking Solutions
Full dentures have a negative reputation because older prosthetics tended to look fake and fit poorly.
Fortunately, this is no longer the case. Our dental office uses the latest materials and technology to create custom dentures that look and feel just like natural teeth. We closely match the color and design of your restoration to complement your surrounding features, and we take digital impressions to create the most realistic reconstructions of each individual tooth.
Every smile is different, and every restoration we create is designed to suit each individual's unique facial features, gum line, and tooth coloration.
Dramatic Results Are Possible
Complete Dentures That Look Like Natural Teeth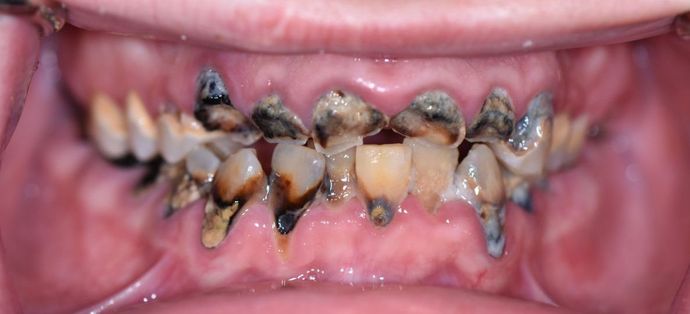 A restoration supported by implants can
also create more natural-looking results...
Implant-Supported Dentures
Security, Stability, Confidence
Some patients complain that conventional dentures slip out of place or make clicking noises, causing discomfort and embarrassment. Even strong denture adhesives may not be able to address these issues. To help our patients feel more satisfied with their new restorations,
Zboril Dental Center
in Victoria, TX, offers implant-supported dentures.
Removable vs. Implant Dentures
Full and partial dentures are made to fit snugly, though they may become loose with time. Full and partial dentures fixed in place by dental implants provide greater stability than even the strongest dental adhesives. We can determine the ideal option for your needs during your visit to our practice.
In some cases, current denture wearers decide to make the switch to implant-supported appliances. There are many benefits, though also a number of important considerations during this process.
Switching to Implant-Supported Appliances
Candidacy for Implants
Good candidates for dental implants should have sufficient jawbone structure in place and be in good health to tolerate oral surgery. If the individual lacks good jawbone structure, a bone grafting procedure can be performed, but it would mean additional surgery and an extended treatment timeline.
Using an Old or New Denture
Sometimes the current full or partial denture can be adjusted to fit dental implants, while other times it's better to create a whole new appliance.
Undergo All Phases of Treatment Here
As a one-stop-shop for all of your dental needs, Zboril Dental Center is equipped with all of the equipment and expertise necessary to complete implant placement at our own office without the need of referrals to oral surgeons.
Dentistry Done with Care
Enhancing Smiles Throughout Victoria, TX
I went to Zboril to reline my bottom Denture, I have never been to a Dentist as personable and friendly as DR ZBoril, I just wish I would have found out about him sooner ,he very professional and takes his time to get the job done, thank you Sir.
View on Google
My experience here is always great. Zboril is very professional and knowledgeable. His staff are friendly and I always feel welcomed. He gave me the smile I have always wanted and I would highly recommend them!
View on Google